Last update: 4/14/2016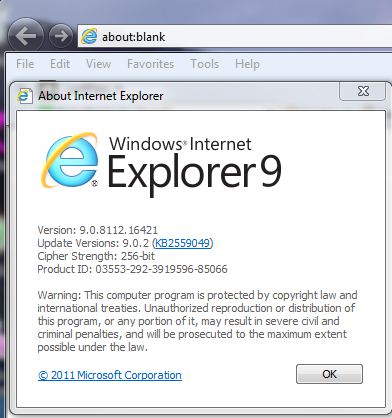 Internet Explorer remains the most popular web browser for Windows. This makes it a large target for malware and cybercrime. We will focus on securing Internet Explorer 9, and will significantly increase the browser's security through add-ins and special hardening settings. We are avoiding earlier versions of Internet Explorer and recommend users to upgrade to Internet Explorer 9. It requires Windows Vista or Windows 7 to operate, so if you are running under an older version of Windows, we recommend you to upgrade or buy a new computer. Older versions of Windows like Windows XP were not built with security in mind.
Enhanced Mitigation Experience Toolkit (EMET)
Internet Explorer users should definitely install Microsoft's free Enhanced Mitigation Experience Toolkit. It helps beefup IE's security. It even prevented the major Zero Day IE vulnerability of April 2014.
Windows 8 and Internet Explorer 10
In 2012 is a new version of Windows and a new Internet Explorer promising tighter security. ForceASLR will be added, making more applications use the randomization code protection of ASLR. High Entropy ASLR will be added to take advantage of the larger memory address space of 64-bit Windows 8 PCs.
Secure your computer, web browser, Internet connection

Follow our guides to secure your Windows PC or secure your Macintosh by installing the right software, firewall, antivirus software, etc. Secure your mobile devices: iPhone, Android smartphone or tablet, iPad. Configure the settings and add plug-ins to you web browser so that it is more secure. Consult our tutorials for: Internet Explorer 9, Google Chrome, and Mozilla Firefox. Secure your Internet Connection: Wireless Network, Public Wi-Fi.